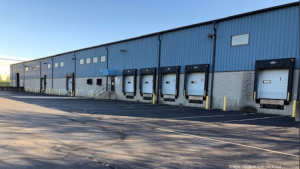 Amazon.com Inc. has leased another building in Philadelphia, growing its portfolio of last-mile distribution centers throughout the region and adding — one fulfillment and last-mile distribution center at a time — to its expansive real estate footprint.
The online retailer signed a lease on a 65,856-square-foot building at 13200 Townsend Road in Northeast Philadelphia.
Hydroponic farming, while often associated with cannabis growing, is an agriculture technology that relies on water and minerals rather than soil nutrients to mass-produce plants.
When Covid hit, plans were shelved and the building was marketed for sale or lease. Colliers said in a statement that it secured a long-term lease with a "nationally recognized, but confidential e-commerce company," and that the "farm concept is now pivoting to another more suitable location." Several sources confirmed Amazon as the tenant.
Amazon (NASDAQ: AMZN) has ratcheted up its leasing activity throughout the region during the last year, signing multiple leases on buildings that it will use as last-mile warehouse-distribution centers and 13200 Townsend is the latest.
Amazon's Philadelphia-area footprint 
Scroll through the map below and click on the red and blue dots to see Amazon's 22 leases in Philadelphia, its surrounding counties, South Jersey and Delaware.
Map Legend
Last-mile distribution Fulfillment
In all of those real estate deals, Amazon has leased space rather than purchase a building for its use. As of the end of last year in North America, the company leased 285 million square feet of space and owned 8.4 million square feet of fulfillment, data centers and other properties, according to its 2020 annual report filed with the Securities and Exchange Commission. Including its office space, physical stores and its warehouse space, Amazon leases a total of 454 million square feet in North America and internationally and owns 20 million square feet, underscoring the sheer size of its global real estate footprint.
It is common for logistics companies to lease rather than buy real estate, said Susan M. Wachter, a professor of real estate and finance at the Wharton School of the University of Pennsylvania. There are many reasons a company such as Amazon prefers to lease space rather than own it.
"They are expanding fast and purchasing isn't compatible with a fast move in and move out and leasing is generally the more efficient way of going because it allows you more flexibility than an ownership structure," Wachter said.
By leasing and not owning its real estate, Amazon can also invest its money back into its business operations instead.
Amazon has been rapidly expanding its network of last-mile distribution and fulfillment centers here and across the country. The effort accelerated as a result of the pandemic and the increase in online shopping by consumers who buy everything from groceries to furniture online. The company's commitment to growing its real estate presence underscores its confidence those buying habits will remain post-pandemic.
The company said last summer it expected to increase its warehouse capacity by 50% before the end of 2020. By comparison, Amazon grew its distribution network by 15% in 2019.
*Article courtesy of Philadelphia Business Journal
For more information about Philly Industrial space for sale or lease in Philadelphia and Philadelphia properties for sale or lease, please contact WCRE at 215-799-6900.
Wolf Commercial Real Estate, a full-service CORFAC International brokerage and advisory firm, is a premier Philadelphia commercial real estate broker that provides a full range of Philadelphia commercial real estate listings and services, property management services, and marketing commercial offices, medical properties, industrial properties, land properties, retail buildings and other Philadelphia commercial properties for buyers, tenants, investors and sellers.
Please visit our websites for a full listing of Philadelphia commercial properties for lease or sale through our Philadelphia commercial real estate brokerage firm.