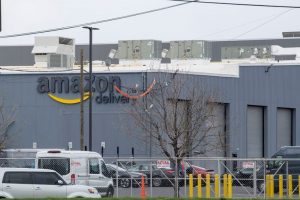 When Connor Lord first arrived at the Amazon Fulfillment Center in West Deptford Township, he was staggered by the sheer size of the place. After driving through the traffic light to the north of the warehouse, its massive bulk dwarfed everything else in this stretch of suburban South Jersey.
"It's intimidating at first seeing this big building, it looked twice the size of the Linc," said Lord, who worked as an apprentice carpenter at the Eagles stadium.
By square footage, none of Amazon's facilities in the Philadelphia area can match Lincoln Financial Field. But the company has infrastructure under construction in the region that comes close to the stadium's size, like a forthcoming mega-warehouse in New Castle, Del., or the new fulfillment center in Carneys Point, New Jersey, down the river from the West Deptford facility.
Both of these warehouses will be well more than a million square feet once completed and are among nine new Amazon facilities that the company has announced for the region in the next year, with more in the works. That's in addition to 14 sites added in 2020 across the Lehigh Valley, South Jersey, northern Delaware, Philadelphia, and its collar counties.
According to the CoStar Group, Amazon now has 57 buildings online or underway, across this greater Philadelphia region. Real estate and industry analysts say they have never seen anything like the company's explosive expansion.
"They've been gobbling up distribution space for more than five years in a big way, but the pandemic really accelerated that growth," said Adrian Ponsen, director of analytics with CoStar Group in Philadelphia. "There's no single company that's anywhere near on the scale of what they're doing."
Amazon's expansion in Philadelphia is part of a worldwide hiring spree sparked by the pandemic. The company added roughly 500,000 employees in 2020, according to company filings with the Securities and Exchange Commission, including 400,000 in the United States. Amazon hired nearly 175,000 people from October through December alone, far more than in any prior fourth quarter. The e-commerce giant employed 950,000 Americans as of last year, a company spokesperson said.
Meanwhile, the company has grown its real estate footprint by 50% year-over-year in 2020, company executives told investors in February.Amazon now has more than 800 warehouses across the United States.
It's not hard to see why the company is expanding. Amazon has done phenomenally well during 2020. Its already strong share price grew steadily throughout the early months of the pandemic, reaching its highest-ever level in September, as its fleets of trucks and legions of workers kept stay-at-home Americans well-supplied. In addition to delivering items, Amazon is the nation's largest cloud computing company and has a leading video streaming service. Already the world's wealthiest man, the company's CEO, Jeff Bezos, saw his net worth grow by more than $60 billion in the last year, to $190 billion, Forbes estimated this month.
Amazon's warehouse jobs start at $15 an hour, while the company's coveted high-paying positions are massing in other locations on the Northeast corridor. The second headquarters is being opened near Washington and 7,000 highly paid white-collar Amazon jobs are now located in Boston. In New York City, the company purchased the former Lord & Taylor flagship on Fifth Avenue as a hub for tech workers.
In the Philadelphia region during the pandemic, Amazon began hiring for tens of thousands of jobs in its vast network of warehouses. The e-commerce giant posted more than 35,000 job openings in 2020, by far the most of any employer in the metropolitan area, according to the nonprofit University City District. The next closest was Lowe's and Penn Medicine, which posted about 5,000 jobs each last year.
Amazon's presence in the local labor market has grown exponentially. The 35,000 job postings were a roughly 1,600% increase from 2019. The University City District used data from Burning Glass Technologies, a Boston software firm that scrapes the internet for public job postings. Amazon does not make regional-wide breakdowns available but said that it now has 25,000 full- and part-time workers in Pennsylvania. Most of its infrastructure is concentrated in the southeast corner of the state.
*Article courtesy of The Inquirer
For more information about Philly Industrial space for sale or lease in Philadelphia and Philadelphia properties for sale or lease, please contact WCRE at 215-799-6900.
Wolf Commercial Real Estate, a full-service CORFAC International brokerage and advisory firm, is a premier Philadelphia commercial real estate broker that provides a full range of Philadelphia commercial real estate listings and services, property management services, and marketing commercial offices, medical properties, industrial properties, land properties, retail buildings and other Philadelphia commercial properties for buyers, tenants, investors and sellers.
Please visit our websites for a full listing of Philadelphia commercial properties for lease or sale through our Philadelphia commercial real estate brokerage firm.