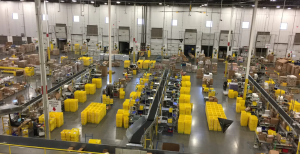 Earlier this month, Amazon opened a new 1-million-square-foot fulfillment center in Berks County. The facility is the online retail giant's 15th large fulfillment center in Pennsylvania and is expected to create 1,000 new full-time jobs paying at least $15 an hour.
Amazon fulfillment centers like this one typically draw a small ecosystem of other businesses nearby — packaging suppliers, van delivery and trucking companies contracted with Amazon, and assorted restaurants. There's also an increase in traffic as vans rush out to deliver packages, semis roll in to loading docks and employees buzz to and from work.
For communities hit hard by the Covid-19 recession as well as declines in manufacturing jobs and other blue-collar work, an Amazon fulfillment center can be seen as salvation.
Now multiply that impact on one community by at least 70.
As the pandemic stretches Amazon's resources, the company is expanding its logistics network across the country at a staggering clip. And the expansion comes as Amazon has hired 400,000 workers in the past 10 months, bringing its total headcount to nearly 1.2 million, a 50% increase in less than a year.
In short, Amazon needs space. Lots of it.
Rush for warehouse space
Amazon, though often secretive about its logistics network, said this summer it plans to increase its warehouse capacity by 50% before year's end. By comparison, Amazon's logistics square footage increased by 15% last year.
Besides the new Berks County facility in Upper Bern, Amazon next year expects to add two more large fulfillment centers in Greater Philadelphia – a 1.25-million-square-foot distribution center in Carneys Point, New Jersey, and an 820,000-square-foot distribution center at a former General Motors plant in Wilmington, Delaware. Those fulfillment centers will employ 800 and 1,000 workers, respectively.
Research conducted by the Puget Sound Business Journal, a sister publication of the Philadelphia Business Journal, shows the company has at least 70 logistics facilities in development across the U.S.
Eleven days after announcing plans for two new fulfillment centers in Kansas City on Oct. 16, Amazon said it will open a 700,000-square-foot fulfillment center in the greater Omaha, Nebraska, area employing 1,000 full-time workers. Three days after that, on Oct. 30, the company said it's building a 1 million-square-foot fulfillment center in Fargo, North Dakota, Amazon's first in the state, which will open in 2021 and bring 500 full-time jobs.
The pandemic is hobbling brick-and-mortar retail and driving up sales online, creating widespread demand for warehouse capacity among e-commerce companies.
Amazon is buying or leasing much of it.
That Amazon, the world's second biggest retailer after Walmart, is investing so heavily in warehouse space suggests the company believes consumers' rapid adoption of online shopping will stick beyond the pandemic. More still, by moving aggressively to place more distribution hubs near consumers' homes, Amazon is getting closer to its ultimate goal of dropping packages on doorsteps within a day or even hours.
"I think this is a big opportunity for Amazon," said Patrick Penfield, a professor of supply chain practice at Syracuse University's Whitman School of Management. "They've got big plans."
Warehouses built to fulfill online orders need to be three times bigger than traditional warehouses, according to a report from Turner & Townsend, the United Kingdom-based investment advisory with expertise in warehouse logistics. That's because e-commerce operations sell a wide range of products, and workers need to be able to easily get to those products, the report said.
Amazon's sorting centers are highly automated with advanced robotics helping to sort and pick packages. Earlier this year, the company said that collectively those facilities can ship as many as 1 million packages in a day. That number rises with each new warehouse that comes online. And each of those Amazon delivery vans you see on the road — also ever increasing in number with each new distribution center — makes as many as 180 stops in a single shift. That's one delivery every 2.6 minutes.
Taking those numbers into account, the demand consumers have placed on Amazon this year is nothing less than exponential.
Cost of a warehouse empire
Meanwhile, as Amazon devours more and more real estate, the supply of coveted warehouse space is drying up and costs are rising.
In a report this summer, real estate services firm said it expects e-commerce sales to hit $1.5 trillion by 2025, which would increase the demand for warehouse space by 1 billion square feet.
Before the pandemic, as much as 35% of its industrial leasing involved e-commerce. That number has climbed to 50% this year.
Experts say e-commerce companies are starting to get creative and are considering setting up distribution centers in underground parking lots or even creating pop-up distribution hubs.
"Our research shows that the fierce competition for warehousing space has been driven up by costs in the dominant global industrial markets," a Turner & Townsend report said.
In an indication of how involved Amazon is in the industrial real estate market, several logistics property consultants declined to comment for this story because Amazon is a client.
Amazon has issued news releases this year announcing only about a half-dozen of the projects. Its plans typically cross the public's eye via loose-lipped real estate brokers, government planning meetings and reporters digging through public records.
In the Philadelphia region, Amazon this year has also leased or is negotiating to lease warehouse buildings totaling more than 1.2 million square feet, sources have told the Philadelphia Business Journal. Those warehouses are:
A 283,000-square-foot building at 2400 Weccacoe Ave. in Philadelphia;
A 496,000-square-foot building at 1250 Forest Parkway in West Deptford, New Jersey;
A 235,240-square-foot building at 3750 State Rd. in Bensalem;
A 207,500-square-foot building at 3025 Meetinghouse Road in Philadelphia.
Amazon is reaping record profits during the pandemic as other sectors of the economy have declined. That means the company has more than enough capital to outspend its competition on warehouse space.
In this year's second quarter alone, Amazon invested more than $9 billion in fulfillment, transportation and AWS capital projects.
Secrets of rapid expansion
How can the company get these facilities up and running so quickly? Amazon owns at most only 4% of its warehouse space and leases the rest, Penfield said.
"So they can expand pretty fast," he said.
The company, Penfield said, has the help of a network of partners, including construction companies, logistics consultants and a handful of big landlords to rush the projects to completion.
Amazon's rapid expansion in the Philadelphia region and elsewhere is even driving a new, niche area for real estate investment as firms are increasingly buying buildings or land near where Amazon leases distribution space to provide parking for its fleet of delivery trucks.
Amazon has plenty of competition from major retailers like Walmart and Target, which have also posted big e-commerce gains during the pandemic.
Target's online sales skyrocketed 195% year over year in its most recent quarter. Walmart's and Home Depot's e-commerce businesses nearly doubled.
Walmart, with its big-box stores scattered across small towns and suburbs, is better positioned to reach consumers' homes more quickly than Amazon, Penfield said.
Amazon is rumored to be trying to close that gap by placing distribution centers inside shopping malls, taking over the abandoned hulks of dead anchor tenants. Shopping malls are alluring as distribution hubs because they are close to suburban homes, which Amazon's drivers could reach faster.
A recent Morgan Stanley report said U.S. e-commerce is expected to grow this year by 38%. Before Covid, it had been expected to grow 13%. That means the pandemic vaulted e-commerce growth three years ahead of projections.
E-commerce now represents 24.5% penetration of total adjusted retail sales, according to the Morgan Stanley report, and 74% of people now shopping online started on Amazon.
Earlier this year Amazon was so overwhelmed with orders its supply chain bogged down, and shipping times for items the company didn't deem "essential" slipped from a few days to a month or more.
All of this rapid growth comes with risks for Amazon, Penfield said, particularly when it comes to quality control. All of those tens of thousands of new hires have to be trained — and quickly, he noted. That's no small task.
"You've got to make sure they understand your processes," Penfield said. "And so a lot of times when you see this type of growth, usually there's issues, such as misshipments. The quality is going to be an issue, and they're going to really have to figure out how to manage that to make sure they can grow that quickly."
*Article courtesy of Philadelphia Business Journal
For more information about Philly Industrial space for sale or lease in Philadelphia and Philadelphia properties for sale or lease, please contact WCRE at 215-799-6900.
Wolf Commercial Real Estate, a full-service CORFAC International brokerage and advisory firm, is a premier Philadelphia commercial real estate broker that provides a full range of Philadelphia commercial real estate listings and services, property management services, and marketing commercial offices, medical properties, industrial properties, land properties, retail buildings and other Philadelphia commercial properties for buyers, tenants, investors and sellers.
Please visit our websites for a full listing of Philadelphia commercial properties for lease or sale through our Philadelphia commercial real estate brokerage firm.