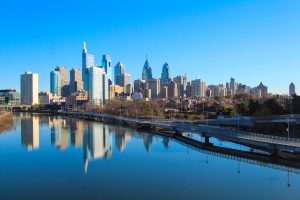 The 1,300-Acre Refinery Site Could Become Up to 15 Million Square Feet of Commercial Buildings
Hilco Redevelopment Partners said it plans to demolish and redevelop the East Coast's oldest and largest oil refinery into what could be one of the largest additions of industrial real estate ever in Philadelphia, in a long-term project that could add space amounting to almost 3% of the city's existing inventory.
The company, the real estate development unit of financial services company Hilco Global, announced a multibillion-dollar plan to decommission, demolish and redevelop the 1,300-acre site that operated for roughly 150 years as an oil refinery until Philadelphia Energy Solutions closed it last year.
The developer said it plans to build a distribution and logistics hub that would bring between 13 million and 15 million square feet of logistics space to the city in phases over several years. In all, the project could add as much as 2.9% more industrial space to the market, which totals about 557 million square feet of industrial real estate now, according to CoStar.
For context, developers completed about 15 million square feet of industrial projects across Philadelphia during all of 2016, 2017, and 2018.
The logistics park is expected to target major national and international companies looking to expand their distribution networks on the East Coast and would employ thousands of workers on-site when complete.
Hilco is undergoing an environmental clean-up of the site, which closed last year after a massive explosion at the facility led Philadelphia Energy Solutions, the operator of the refinery, to declare bankruptcy.
The explosion damaged a significant portion of the campus and led Philadelphia Energy Solutions to lay off more than 1,000 workers before it shut down.
Hilco bought the refinery in June for $225.5 million at bankruptcy court, according to a previous statement from the company. According to a city report last year, the site has the "most permissible industrial zoning category" and would allow for a wide range of industrial uses.
To accommodate a proposed development schedule, HRP said its plan is expected to be conducted in phases that allow portions of the site to be decommissioned and remediated as others are being redeveloped concurrently.
"Our plan is to transform the site into a commercial hub to be shared by dozens of world-class companies that will benefit from Philadelphia's diverse workforce and strategic location with an environmentally responsible infrastructure that will be great for all Philadelphians," Hilco's CEO, Roberto Perez, said in the earlier statement.
The site, known in Philadelphia as the PES refinery, is a storied one that largely defined Philadelphia's port region for the nearly 150 years it was in operation. The site was first developed into a refinery by Atlantic Refining Co. in 1870, and would host the refineries of some of the nation's oldest oil and gas companies, including Gulf Oil Corp. and Sunoco.
In terms of its total acreage, the refinery site is the largest such refinery on the Eastern Seaboard. At its peak, it processed roughly 355,000 barrels of crude oil per day.
Philadelphia has strong fundamentals as a logistics destination, though, and this development could provide a strong surge of momentum in making the city an East Coast distribution hub.
The city's industrial sector is the only commercial real estate sector that has not experienced a leasing slowdown throughout the coronavirus pandemic, according to CoStar research. Philadelphia's industrial vacancy rate is just 5.3%, which is a 25-year low for the city.
And perhaps most importantly, Philadelphia sits squarely between New York City and Washington, D.C., "right in the middle of the largest region of purchasing power in the western hemisphere," Adrian Ponsen, director of market analytics for CoStar Group in Philadelphia, writes in a recent report.
In recent months, top e-commerce retailers including Target, Amazon, Houston-based Utopia Fulfillment and the produce delivery service Misfits Markets have expanded their distribution footprints in Philadelphia, according to CoStar research.
For more information about Philly Industrial space for sale or lease in Philadelphia and Philadelphia properties for sale or lease, please contact WCRE at 215-799-6900.
Wolf Commercial Real Estate, a full-service CORFAC International brokerage and advisory firm, is a premier Philadelphia commercial real estate broker that provides a full range of Philadelphia commercial real estate listings and services, property management services, and marketing commercial offices, medical properties, industrial properties, land properties, retail buildings and other Philadelphia commercial properties for buyers, tenants, investors and sellers.
Please visit our websites for a full listing of Philadelphia commercial properties for lease or sale through our Philadelphia commercial real estate brokerage firm.